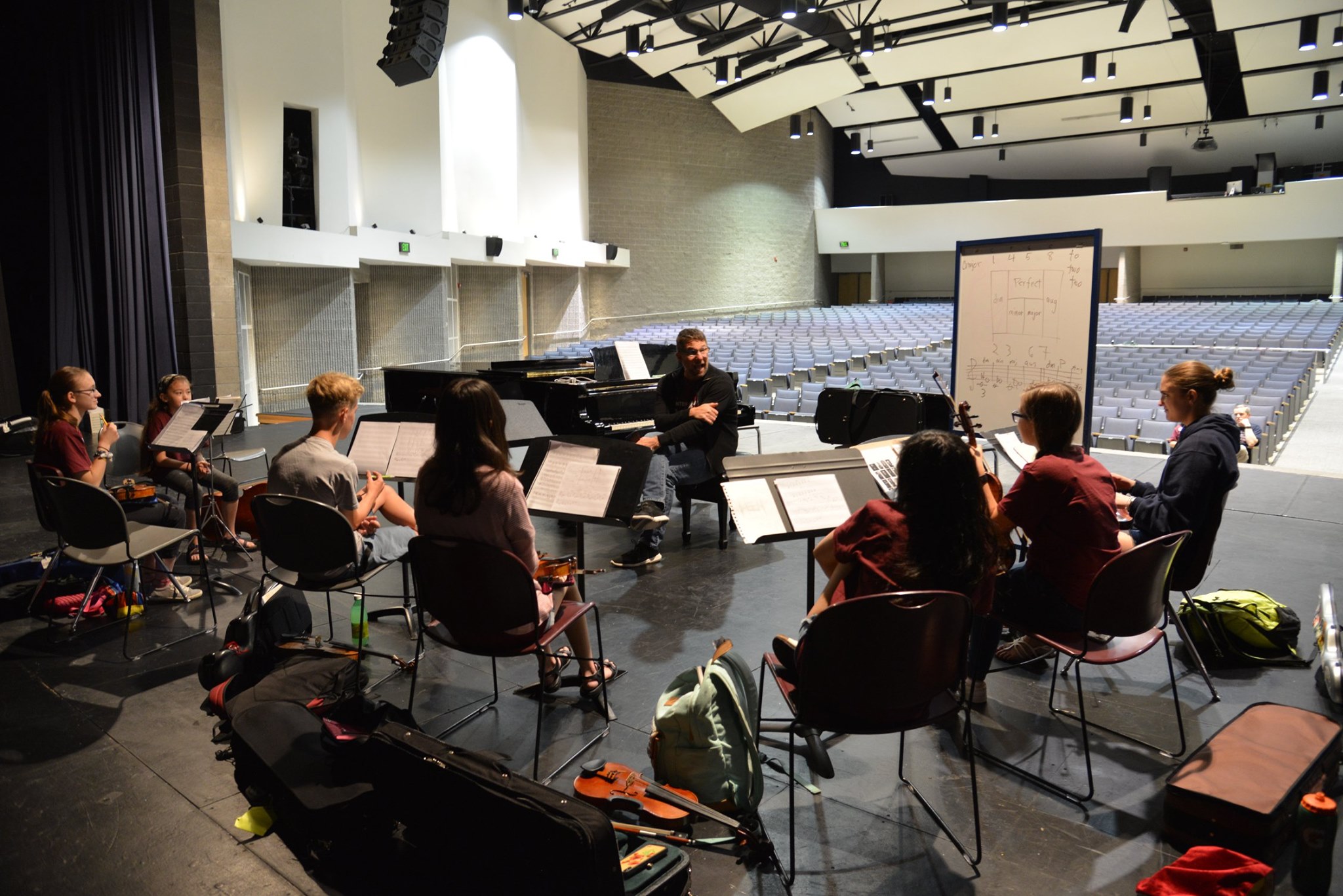 Advanced String Camp – REGISTRATION CLOSED FOR 2022
$630 (January-March 31st)
$710 (Starting April 1st if space is available)
Includes t-shirt and Tuesday night teen dinner activity in addition to a $30 family registration fee ($60 starting March 1). If you are registering after April 1st, our chamber groups might already be assigned and full. REGISTRATION IS FULL FOR 2022.
We encourage anyone wanting a more intensive chamber music experience to also register for Chamber Days which begins on June 16th. You may do so by selecting "Chamber Days" for registration. This seminar is limited to the first 40 students to register.
Please note: Children under the age of 12 will have to be accompanied by an adult the entire time. 
The Advanced String Camp is certainly the highlight of our institute for advanced students. Most participants are junior high school and high school students.The camp is for both Suzuki graduates and traditional students who have reached the advanced concerto level. The camp is not a Suzuki program, so traditional students who meet the playing level requirements feel very comfortable participating. Advanced String Camp students are especially encouraged to apply for the noon recitals.
ASC will include five days which will enable you to have more time in master classes and to perfect your chamber performances and orchestra skills. Social activities will be provided throughout the week with a social on Tuesday night.
Five Hour Core – The Advanced String Camp curriculum includes a master class, chamber group, group performance class and two hours each day of orchestra. The pieces listed below are to be prepared for the group performance class. The performance class is just one part of the overall string camp experience, and many students may be performing more advanced music in their master classes. The purpose of the group performance class is to expand repertoire, create camaraderie and the opportunity to work with the guest artist teachers.
*Note – Be sure that you memorize the pieces listed under the Code (V10, Q6, C9, etc.) you registered for.
Violinists who would like to play the viola in their chamber groups, e-mail your request to ISSI Chamber Assistant, ashleydsmnd at gmail.com
If you are having difficulty finding a piece of music listed below, we suggest you order from Day Murray Music (801) 266-3537 or via their website here.
**Please prepare the pieces listed below for your performance class. The piece you will perform will be selected during ISSI.** 
---
V9 –  Violin – Susan Crawford
For Students currently 7th grade and below who are beyond Suzuki Book 8
Danse Espagnole by De Falla/Kreisler (Schott Edition) (download)
Un Poco Triste from 4 pieces for Violin by Joseph Suk (download)
---
V10 – Violin – Rachel Aguilar
For students currently 8th grade or above who are beyond Suzuki Book 8
Alla Cracovienne by Statkowski (download)
Berceuse, Op. 16 by Faure (download)
---
V11 – Violin – Paul Aguilar
For students who have learned the Mozart Concerto PLUS one additional major concerto
Introduction and Tarantella by Sarasate (International Edition, Edited by Zino Francescatti) (download)
Canzonette by Tchaikovsky (37 Pieces You Like to Play, Schirmer) (download)
---
Q6 – Viola – Rafael Videira
Suite for Viola, Group 1, movement II "Carol" by R. Vaughan Williams (Oxford Music Press) (download)
Suite Nordestina, 3rd mvt by Guerra-Peixe (music to be emailed) LINK HERE
---
C7/8 – Cello Books 7-8 – Amy Barston
Gavotte by Louise Le Beau (download)
Etude No. 22 by Matz (download)
Wedding Song Duo by Bartok (download)
---
C9 – Cello Books 9+ – Amy Barston
Piece No. 2 for Cello and Piano by Nadia Boulanger (download)
Gnomentanz by Popper (download)
Ruthenian Kolowejka Duo by Bartok (download)
B3 & B4 – Bass Books 3-4 
A Gaelic Melody from Suzuki Bass Book 3
Suite in the Olden Style No. 1 for double bass trio